New Dog Toy makes a great dog gift or toy for kids
Our Shooting Star™ dog toy is made for Atlanta PAW by a designer in the USA. This toy makes a great dog gift or gift for kids. It flys like a frisbee, floats in water, bounces and makes a great putter for frisbee golf. Perfect toy for the pool or beach. Play fetch with your dog or toss with your friends. This unique toy will fit in your pocket and is easy to pack for a trip. The fabric portion of this toy measures 5" and is made of 100% cotton with nylon string attaching the balls. The 1 1/2" multi-colored rubber balls are semi-soft making this a great toy to play with in the house. This dog toy matches several fabrics available of our bandanas and has a different fabric on the reverse side.

If your dog is a chewer, please take this toy away after playtime.
See our inventory for this great toy shown right.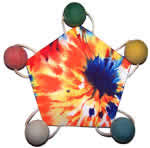 Shooting Star™
In stock ready to ship.
Balloons (large pattern) - 3
Batman - 1
Birthday - 1
Camouflage - 1
Confederate - 1 (drums)
Fireworks - 2
Flames - 1
Neon - only 2 left
Party Animal - 2
Tie Dye - sold out